Clairitec's display solutions ("intelligent displays" and "HMI boards") are now available from Digi-Key Electronics, a leading global distributor of electronic components and automation products.
These display solutions are suitable for all applications requiring a Human Machine Interface (HMI) such as charging stations, control panels, industrial machines, medical devices or electric bicycles. They allow manufacturers and constructors to have access to high quality products, manufactured in France, with a personalised and optimised interface.
More than 25 online references immediately available
The solutions listed on the digikey.com website include Starter kits and intelligent displays developed by Clairitec:
Starter kits: Clairitec Starter kits have been designed to facilitate the creation of a custom interface. They contain the essential elements to start a graphic project in complete autonomy: an intelligent display (from 3.5″ to 9″), an HMI card and all the accessories and documentation necessary to start your graphic project.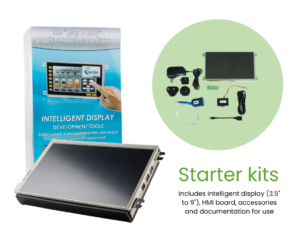 Intelligent displays: In addition to the Startec Kits, you can also find individual displays, programmable intelligent displays or "outdoor" displays according to your needs.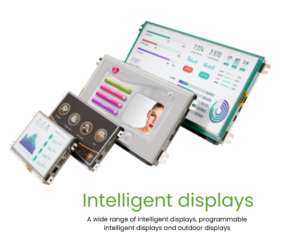 When should I order Clairitec solutions from the Digi-Key website?
The referenced solutions are ideal for manufacturers or OEMs who have a specific need or who wish to order in small quantities. Thanks to their diversity, the online references allow us to meet several display needs: intelligent displays, programmable intelligent displays or resistant displays for outdoor use.
For more complex or specific projects, Clairitec offers a tailor-made design of your display, whatever the solution the manufacturer wishes to equip. Clairitec studies the needs of the project and proposes an all-in-one solution (display, HMI card and custom interface) that is innovative and personalised.
Why order Clairitec intelligent displays from Digi-key?
Immediate product availability and regular restocking: The solutions listed on the site are available immediately with constant restocking to ensure that stocks always consist of the latest Clairitec solutions;
Express delivery: 99.9% of orders placed on digikey.com are shipped the same day.
Find all our Startec Kits and intelligent displays listed at Digi-Key Electronics here.
Would you like to know more about our off-the-shelf displays or our custom solutions? Contact our experts.