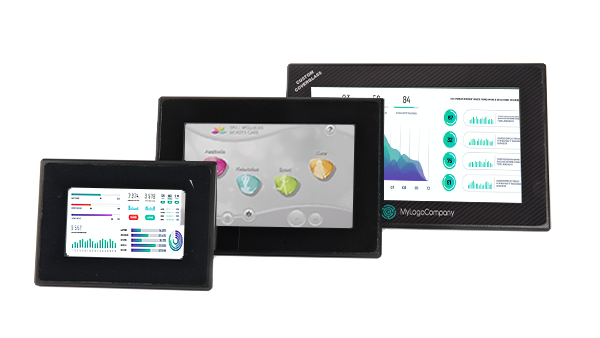 An HMI control terminal with I/O to provide functionality similar to graphic PLCs.
The Intelligent Programmable Display is ready to be installed. It is designed for devices such as PLCs, industrial, medical, measuring devices, 3D printers, coffee machines, elevators etc.
HMI display
Nos afficheurs intelligents programmables sont disponibles dans les configurations suivantes, choisissez la plus adaptée à votre application :
Touch rendering : PCAP/ Resistive / Non touch
Serial link: CAN 2.0B/ RS232/ USB

With microprocessor to program directly in the terminal / Without microprocessor to control via your carter


Two options are also available for your programmable intelligent display:
Different types of mounts to suit your viewing angles
The Programmable Intelligent Display is delivered in a ready-to-install housing that is already EMC-qualified. It is up to you to choose the most suitable mounting for your application.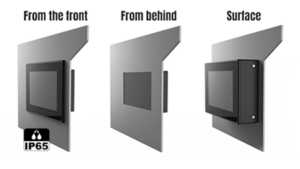 Technical description table with I/O lists
800 x 480 px
16 million

No touchscreen Capacitive / resistive

CAN2.0B / USB RS232 / RS485
NTSC / PAL possible
32 MB

2x thermocouple
1x PT100 6x digital / 5x analog

6x relays / 2x PWM 6x digital / 2x analog
12 - 36 V
9 W
800 x 480 px
16 million

No touchscreen Capacitive / resistive

CAN2.0B / USB RS232 / RS485
NTSC / PAL possible
32 MB

2x thermocouple
1x PT100 6x digital / 5x analog

6x relays / 2x PWM 6x digital / 2x analog
12 - 36 V
6 W
480 x 272 px
4.096

No touchscreen Capacitive / resistive

CAN2.0B / USB RS232 / RS485
No video entries
32 MB

1x PT100 5x digital / 4x analog

6x relays / 2x PWM 6x digital / 2x analog
12 - 36 V
3 W